Many people are unsure of how read to read a credit report or how to interpret what they read.
There are as many variations of commercial credit reports as there are commercial credit bureaus. Depending on what type of creditor you are, you may even see variations of the same report on the same company whose credit you are checking.
Early entrants into the commercial credit reporting industry were companies like Dun and Bradstreet and Equifax, as well as certain industry-specific mercantile exchanges.
Dun and Bradstreet (DNB) was the dominant player at the time, and as the technology was introduced, DNB's commercial credit report formatting became the default standard. As with any industry, old employees of DNB left the firm to start their own commercial credit reporting firms, but the new format of their reports looked substantially similar to that of Dun & Bradstreet Credit Report.
Equifax reports had their own format, and creditors had to learn how to read a credit report under both report formats.
Over the years, report formats have changed to include graphics and credit scoring tools. Interestingly enough, creditors who supply their Aged Trial Balances to the credit bureaus in exchange for reduced report pricing, still use the standard "Metro 2" format developed years ago.
A commercial credit report typically has approximately eight parts broken down as follows:
Company name and demographic details
Summary of credit utilization and negative data
Credit scores given by the bureau
Trade creditor payment history
Payment trending
Corporate information
Other credit files linked to this report
Recent inquiries
Let's Break It Down Further So You Know How to Read A Credit Report
Company Name and Demographic Details
The company name, address, phone number, SIC code, and file open date is used to confirm you have the data file for the correct customer. The file open-date is worth noting, as it will tell you how long the company has been seeking credit. The older the date, the more robust your commercial credit report should be.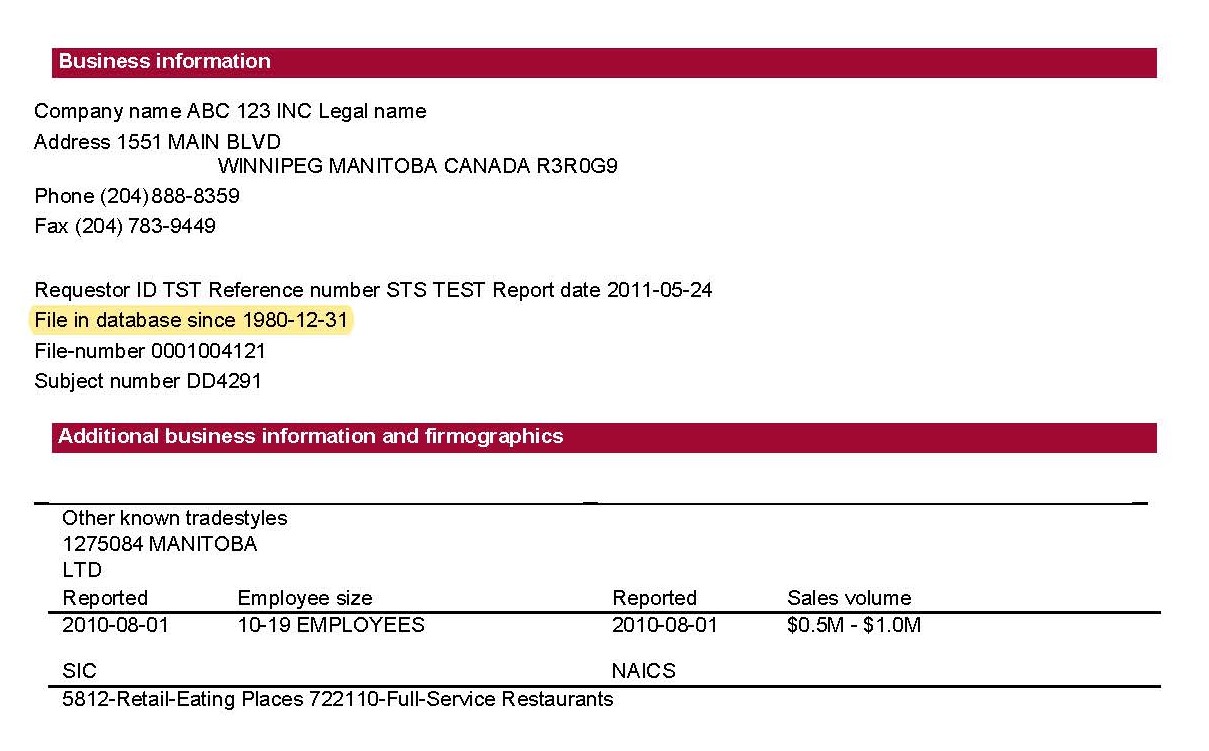 Summary of Credit Utilization and Negative Data
Credit utilization summary and negative data is an excellent way to determine if your customer or prospect is repaying their debts, or if they have reached or surpassed their credit limits with other suppliers. Negative data can include NSF cheques, collection items, lawsuits, judgements, and other data. This section will give you a very good snapshot of how your customer managers their credit and cash flow.
 Credit Scores Given By the Bureau
Commercial credit report scores consist of a rating system that is usually "exclusive" to the commercial credit reporting company. They use the payment history reported by the company's vendors, to predict the probability of the company being solvent and its ability to service its debts.
Trade Creditor Payment History
Trade creditor payment data is fascinating. Here you should see how your customer is paying other suppliers. Do they pay within terms? Are they paying certain suppliers and not others? If your customer is in the construction business, be sure the commercial credit report you are using takes into account holdbacks. Many times you may see significant money outstanding past ninety days; however, those funds are likely holdback funds that will get disbursed as the construction project comes to completion.
Payment Trending
Another key item to watch is how your customer pays their critical suppliers. If critical suppliers are slow to be paid, then you may want to reconsider extending credit entirely.
Payment trends are on a commercial credit report are handy to review. There is usually 36 months worth of debts. You may see your customer is very slow to pay every fourth quarter. Perhaps your client and his customers are in a seasonal business. If you release an order on credit in September, there is a high probability you will not see your money until the New Year!
Corporate Information
Company or corporate information is a critical component of responsible credit granting. Even if this section of the commercial credit report is complete, we still recommend obtaining your own corporate search. This section will give you some idea of the corporate structure of your customer. If your report shows the customer's corporate status as "inactive" or "cancelled," then alarm bells should be going off.
Other Credit Files Linked to This Report
The "other credit files" linked to this commercial credit report are very useful. In this section, you may see other corporate divisions of your customer, or even an entirely new set of credit data on the same company! A new set of data can happen if creditors are not doing their due diligence and extending credit to a tradename and not the actual legal name of the customer. If you see another close match to your customer, it may be worth obtaining the second commercial credit report.
Recent Inquiries
And finally: the inquiry section of a commercial credit report. Here you will see who else might be checking the credit of your potential customer. If your firm supplies drywall and you notice another drywall supplier has recently checked your long-time customer's credit—you may be on the verge of losing that client.
Conclusion
In conclusion, knowing how to read a credit report and interpret it correctly is vitally important but a credit report is only one tool in a professional credit managers toolbox. We do not recommend relying solely upon the information contained in these reports as not all creditors report their aged trial balances to the credit bureaus. The credit report will give you a sense of how the customer manages their finances. If the credit file contains sparse data, we suggest seeking the help of a credit industry professional who can check with their network of contacts to develop a complete risk profile.
If you would like PCM to complete a risk assessment on one of your customers, send us an email or call us 1-866-266-0117